«The Who» - meine Lieblingsrockband der 70er. Schuld daran ist mein Vater, der mit dem Sound der Briten aufwuchs. Er erzählt gleich selbst, weshalb ihn «The Who» so faszinierten. Und du erfährst zudem, dass Vinylfetischismus in meiner Familie genetisch veranlangt ist.
SENDUNG HÖREN
The Who - «I Can't Explain»
Der erste grosse Hit der britischen Rockgruppe.
The Who - «Please, Please, Please»
Auch «The Who» orientierten sich am schwarzen Rhythm & Blues der späten 50er und frühen 60er Jahre. Hier eine coole Coverversion des James Brown Klassikers.
The Who - «Won't Get Fooled Again»
Hammer Song mit dem Rock-Schrei des Jahrhunderts. Roger Daltreys Rockröhre hört man noch heute in jedem CSI Miami-Intro.
The Who - «Who Are You»
Ende der 70er Jahre beginnen «The Who» mit Synthesizern herumzuexperimentieren.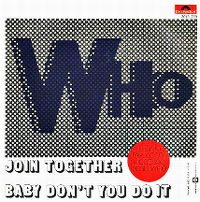 The Who - «Join Together»
Das Lieblingslied meines Vaters. Tönt am besten, wenn der Revox-Röhrenverstärker ganz aufgedreht ist!